Make a year's worth of sales in two weekends!
Meet your new customers at the Charlotte Home + Remodeling Show. Qualified homeowners attend the show annually seeking helpful advice, solutions and new products for their next renovation, décor or landscape project.

The Charlotte Home + Remodeling Show features high-interest exhibits, high-profile experts and the latest trends to bring in customers who are ready to move ahead with their home improvement projects.
2022 BOOTH RATES
Exhibit Space Rate: $13.99/sq.ft.
Bulk Space Rate: $13.19/sq.ft.
(Booths 400 sq. ft. and up)

Marketplace Exhibit Space Rate: $11.89/sq.ft.

Arts & Crafts Exhibit Space Rate: $7.89/sq.ft.

Exhibitor Listing (required): $99

ADDITIONALLY:
Corner Premium (per corner): $200
Main Aisle Premium: $200
Direct Sell Fee: $200/booth
Contact Anthony Davis to reserve your space today!
PH: 704-969-6811
MEET WITH QUALIFIED HOMEOWNERS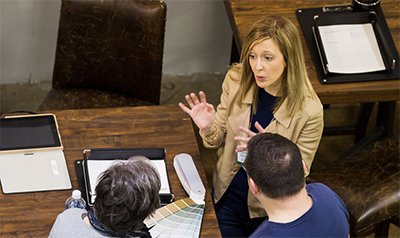 94%
are homeowners

74%
have a project
in mind

61% plan to spend up to $25,000 with an exhibitor from the show within the next 12 months

63% attend with a spouse or partner – meet BOTH decision makers

$113,366 average annual household income
Source: 2019 Marketplace Events Attendee Survey

Testimonials
"We have spent thousands of dollars on event marketing with various different companies and Marketplace Events is hands down the best. We get the largest return-on-investment with their shows. I would highly recommend them to any business—from a small start-up to a large corporation. The show team is top-notch!"

Phil and Stephon
THE HOME DOCTOR

"Everyone with Marketplace Events is professional and very accommodating. It was a very positive experience and we will be exhibiting again."

Shannon Scott
ZIPPY SHELL

"Marketplace Events is a great company with which to work. The show staff is helpful and they care as much as we do about putting on the best show possible. They're the kind of company you feel confident doing business with."

Donna Johnson
BATH FITTER

"Thank you Marketplace Events for adding another quality home show to our market! The Show delivered quality leads and sales that helped us set a monthly sales record for our company! You do a great job getting the message out to homeowners with the right mix of advertising and marketing to deliver crowds and quality contacts! See you next year!"

Paul Despenas
MIDWEST CONSTRUCTION & SUPPLY

"Marketplace Events always does an excellent job preparing us for the show. They genuinely care about how well we do, offer advice and suggestions and always follow-up after the show to see how we did."

Pete Borbely
LUXURY WINDOW FILMS

"Marketplace Events does a great job of getting people to the shows! They are much more effective than other promoters."

Jackie Miller
JR ASSOCIATES

"What an amazing show! Marketplace Events works hard to ensure a great customer experience!"

Jonathan Land
LEAF FILTER NORTH OF ALABAMA

"We were pleased with our sales. We enjoy being part of the show."

Ann Edwards
BAKER BUFFALO CREEK VINEYARD AND WINERY
Search the Exhibitor List
Exhibitor List
2020 Show Recognized!

2020 Show Recognized As One Of The Best By Better Homes & Gardens Magazine.